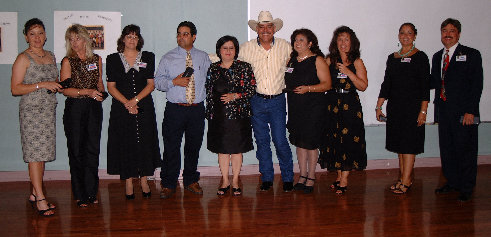 These are the people who worked hard to make our 25th Reunion so successful!
Above we have: Rosa Linda, B'Ann Ballard Vaughn, Roberta "Tinker" Jankowski Valero, Hector Calderon, Blanca Oviedo Escobedo, JP Sanchez, Carmen Herrera, Becky Smith, Debbie Hernandez Salinas and Mike Salinas
On the left we have: Lupe Guzman and Rosa Linda Benavides Sanchez.

Great Job Done by All!!
Prizes were given out in a lottery fashion

The Prizes included:

Boones Farm Wine MD-2020
and a Rolex Watch
and assorted other "unmentionables"